Saturday, January 21, 2006
Bagels & Beans - Jan 21
I thought I'd leave it late enough for a decent crowd to gather before shambling down to the Bageleria.
I didn't myself feel like playing but I did fancy listening to some good picking and hearty crooning and I also had an urge for a sumptuous latte and one of those half-chocolate biscottis they naughtily leave within temptation's grasp right there on the counter.
Rolled up around 8:30 and tiens! nobody there - not a soul.
Also rolling up was Dwight so we stood outside chatting until Dwight manfully decided to fetch his guitar from the car and hold a hootenanny of one.
At which point, a new face turned up - Bill - who also had his guitar, so the two heros sat down to compare tunings and what in their repertoires might coincide as I slunk off to buy my coffee and choc and salve my conscience by buying Dwight a raspberry flavored soda (much featured in the photos and adding a nice dollop of color).
Dwight has this wonderful green-colored guitar that has a lovely action and that he gets some great sounds out of.
He has this clever way with chords so his left hand appears not be budging while all these cool sounds are flowing, and then you look closer and you see the cunning bugger is hammer-n-clawing the bass B or running a barré and trilling a tone up on treble strings to give a busy second-guitar effect.
He's also a helluva nice guy and will share what he knows and take the time to demo how he gets the effects he does.
First few songs were Eagles - Tequila Sunrise et ilk - with both gents thrumming courteously and singing even more softly and saying nice things about each others' playing in between chantings.
I'd not brought my guitar so I did my paparazzi thing and snapped incessantly and annoyed everyone by not knowing how to turn off the anti-red eye spotlight that blinds everyone for 2 seconds before the shutter even clicks.
Then who should walk in but Mike Murray.
Mike lives like all the way over in Port Townsend, but whereas I mewl about trogging the 10 minutes down to the Pegasus or up the 305 to Seabold, Mike happily chunters down to Bagels for these Friday sessions.
Well, no more whispering vocals - when Mr Murray gets singing, you know about it and so do the rafters - good gritty bass and sold guitar work.
Some wonderful songs, including a killer about someone walking in his sleep that, according to Mike, was picked up by someone who came back a few days to announce he had "fixed" - i.e. added a few more verses and generally padded it out.
Braver man than me: in my book, when Mike sings a song, it stays sung - and that's all she wrote.
Also a wonderful rendering of Frankie and Johnny that has better words than I've heard elsewhere, plus Mike's cool instrumentals.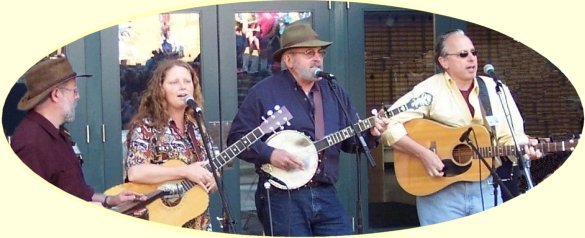 On this subject, if you look closely where Bagels keep the newspapers, you'll see CDs and cassettes by Smoke Creek and the Smelter Rats, grab yerselves one while stocks last.
Also click around the Creek site and check out the other singers and, indeed, Mike's blog (which looks like it's been resting fallow since March '05, but if it's a choice between blogging or driving to Bainbridge, I'll go for the vehicular option).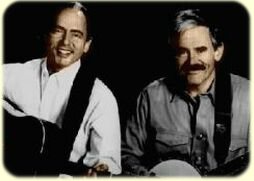 Jim and Mike: One of my most treasured Seabold memories is of Mike and brother Jim duetting on a song about their Eastern Montana youth and something about chucking bottles out the car window.
But back to the Bagel soir: for some time, it was just the three of them picking away, me wielding the camera and chatting to another guitarist who'd also ventured out sans instrument.
The sound was so good and the atmosphere so cosy and companionable that I ended up rather relieved glad over the mysterious absence of other regulars.
As I walked home, there were the teenagers hanging out in the carpark, there were the home-bound drivers bombing up the 305 and the diners from the Grill tottering out for a baccy fix - and there was dear old Safeway, stolid and gleaming beacon, "shining like a national guitar."
Next date: Before I quit these shores, I'm getting Mr.Wells over here, meet the gang, do his auto-harp thing.
I need to sink a few final jars with that hero - we've weathered some same-ish wars.
Everyone polish up their Dylan: RW is *the* expert on that boy.
Links to this post: